A
fresh new

approach to an established practice

A lot of people know the familiar Meroo Street corner of a converted Heritage-listed home to a Bomaderry doctors' surgery in practice since 1980. Meroo Street Family Practice has been a respected, dependable general practice to the community for over 35 years, seeing generations of local residents and helping them with medical conditions and healthcare.

What you need to know now is that the Practice is off and running with new ownership (2017) and an ambitious goal to be the Best Healthcare & Medical Service available in the Shoalhaven area. Since taking over the practice, Dr Vincent Au has invested in improvements to facilities (inside and out) and added more staff to offer high-quality healthcare as a General Practice.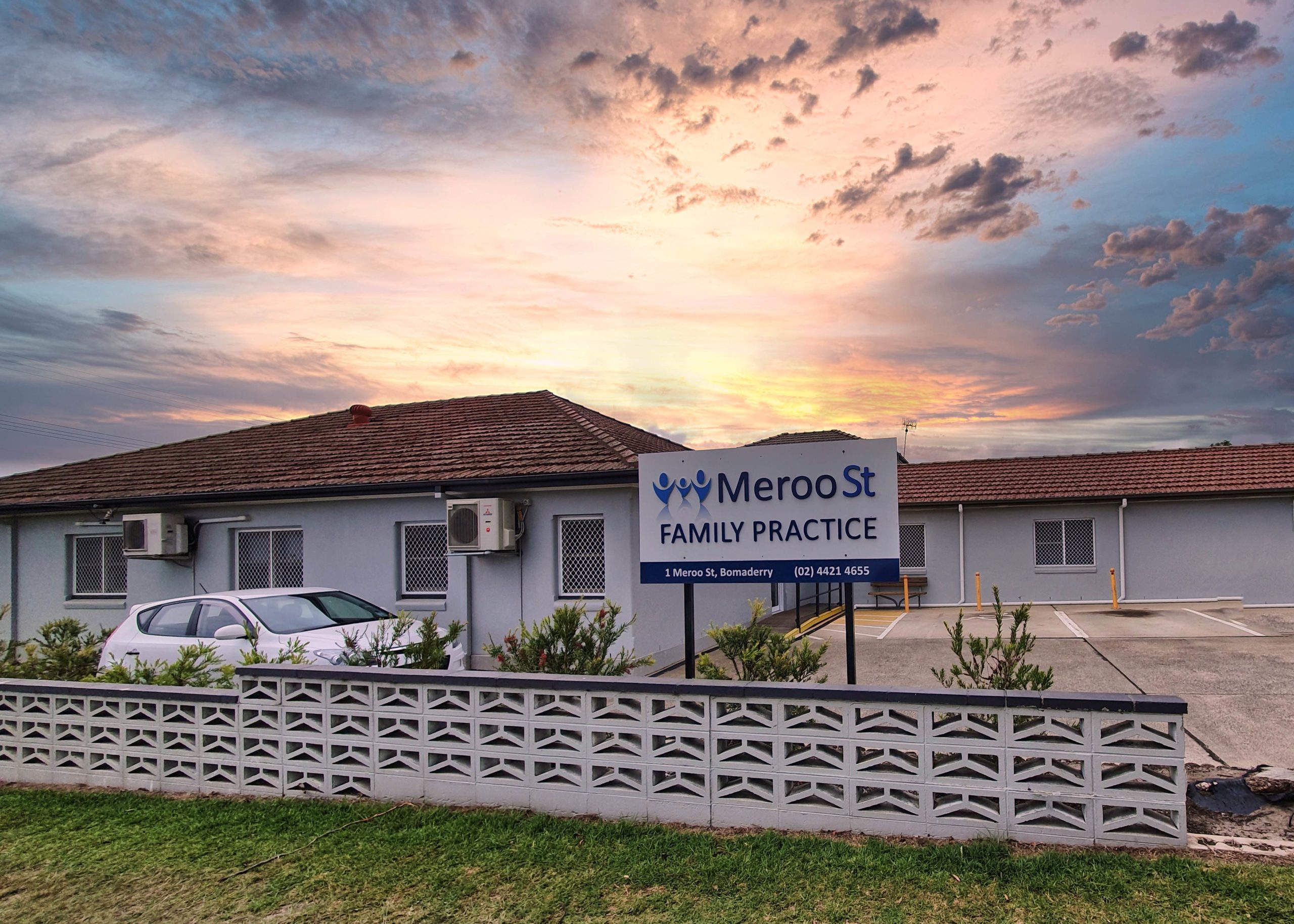 We offer most health screenings and evaluations as Bulk Billed services. Talk to us about having an up to date medical assessment for any of these important checks or conditions.
Heart Health including blood pressure & cholesterol

Diabetes Check

Asthma Check

Weight management

Breast cancer

Cervical cancer

Colon cancer

Chronic Disease Management

Minor Surgical Procedures

Podiatry

Nutrition Advice

Pediatric care

Aged care

HIV testing

Family Planning Health Check

Medication Review

Indigenous Health Incentives

Pre-employment Checks

Skin Cancer Checks

WorkCover Consultations

Mental health care plans

Flu shots
Our Mission
For over 35 years, Meroo St Family Practice has been providing comprehensive general practice care to the community.  Our mission is to promote the health and well being of the local population by providing high quality medical care for people of all ages.  Meroo St Family Practice is committed to providing services that will exceed the expectations of our customers.   We provide a holistic approach to our patients. We believe that "prevention is better than cure". We encourage patients to have regular checkup with their doctors so we can provide the necessary preventive care and ongoing health education. 
Walk in and feel better
We believe 'prevention is better than cure' so we encourage all patients to take their health seriously. Our holistic approach means we welcome any complaint or ailment and will do our best to examine, investigate and recommend good health steps or remedial actions.
See how we've changed! Step in to our newly refreshed Practice to appreciate the face-lift to our facilities. Yes, the same bricks but with a new belief: Making a doctor's visit something to look forward to, something important.
Start with a Check-up. We care about your health. Bulk-billing makes it easy to set up new patient visits or check-ups so we can assess and investigate your health profile. From infants to the elderly, it's important to pay attention to any physical and mental changes.
We network with top specialists
Nowra and the Shoalhaven have excellent medical and health service specialists. We make a point of knowing them and working with them for the benefit of our patients. And to put important health support within easy access, our practice has on-site Allied Health professionals.
Get in touch with your Health Vital Signs
You know your body best. You've lived in it all your life. Yes, new mothers need to know what to look for in babies. Keep track of rest, diet and exercise (three pillars of health) and we can help you map the best route to make better choices or try good options to make your health a priority.